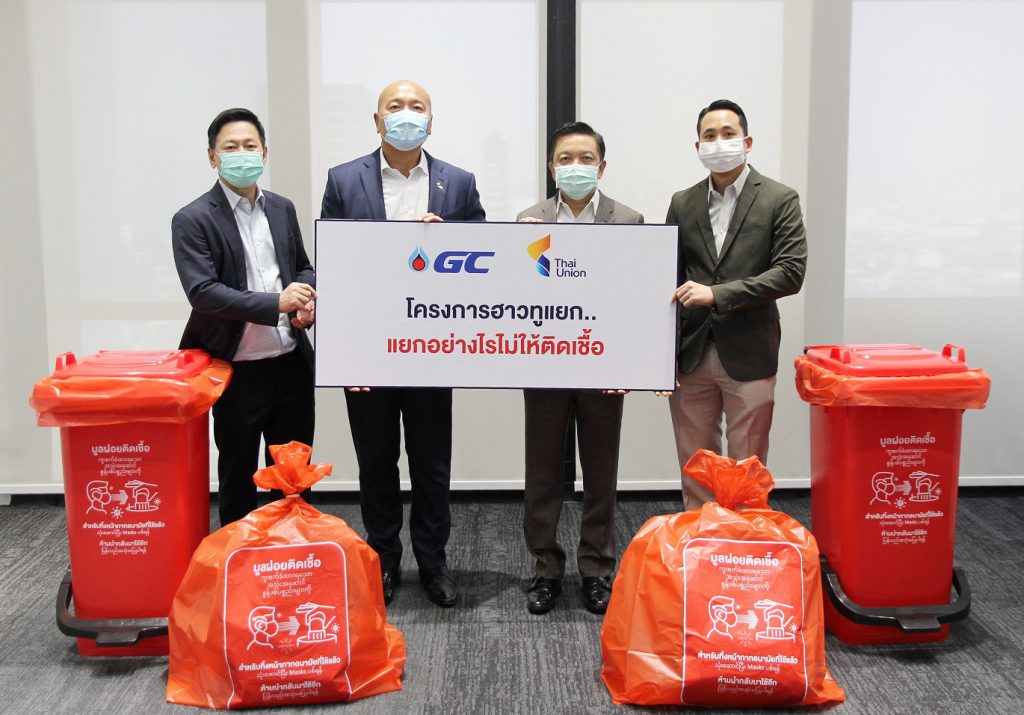 Thai Union Group PCL has joined with PTT Global Chemical PCL or GC in the 'How to Manage Infectious Waste' ('How to Yeak') Project to raise an awareness on the risks of infectious waste and the need for such waste to be properly separated and disposed of to better ensure safety for communities in Samut Sakhon Province.
"This latest wave of the COVID-19 pandemic in Thailand has resulted in the increase of infectious waste from items used to protect us from the virus, such as face masks," said Dr. Kongkrapan Intarajang, CEO of PTT Global Chemical PCL, or GC.
"GC initiated the 'How to Yeak' Project by collaborating with governmental agencies and partners on infectious waste management, while providing knowledge on proper infectious waste separation and management in order to prevent the spread of the virus. "Important tools for this project are 120-liter red step-open trash cans for infectious waste separation and red trash bags for infectious waste collection. These bags are made from high-quality InnoPlus plastic resins that are durable with moisture protection, and help reduce the spread of the virus, are safe to be stored, and are carbon footprint certified," he added.
Mr. Thiraphong Chansiri, CEO of Thai Union, added that the health and safety of all Thai Union employees as well as the people in the communities where its business operates remained the company's top priority. "We are aware that infectious waste must be carefully separated before being gathered for treatment or disposal, especially during the current COVID-19 pandemic.
Thai Union remains committed to partnering with both the public and private sectors to help ensure safety, security and health. "We are proud to be part of this project and would like to thank GC as our partner in sustainability. We will also use this opportunity to encourage our employees to learn more of waste separation and proper infectious waste management, not only at work, but also in their daily lives," Mr. Chansiri concluded.